Interview La Grosse Radio with David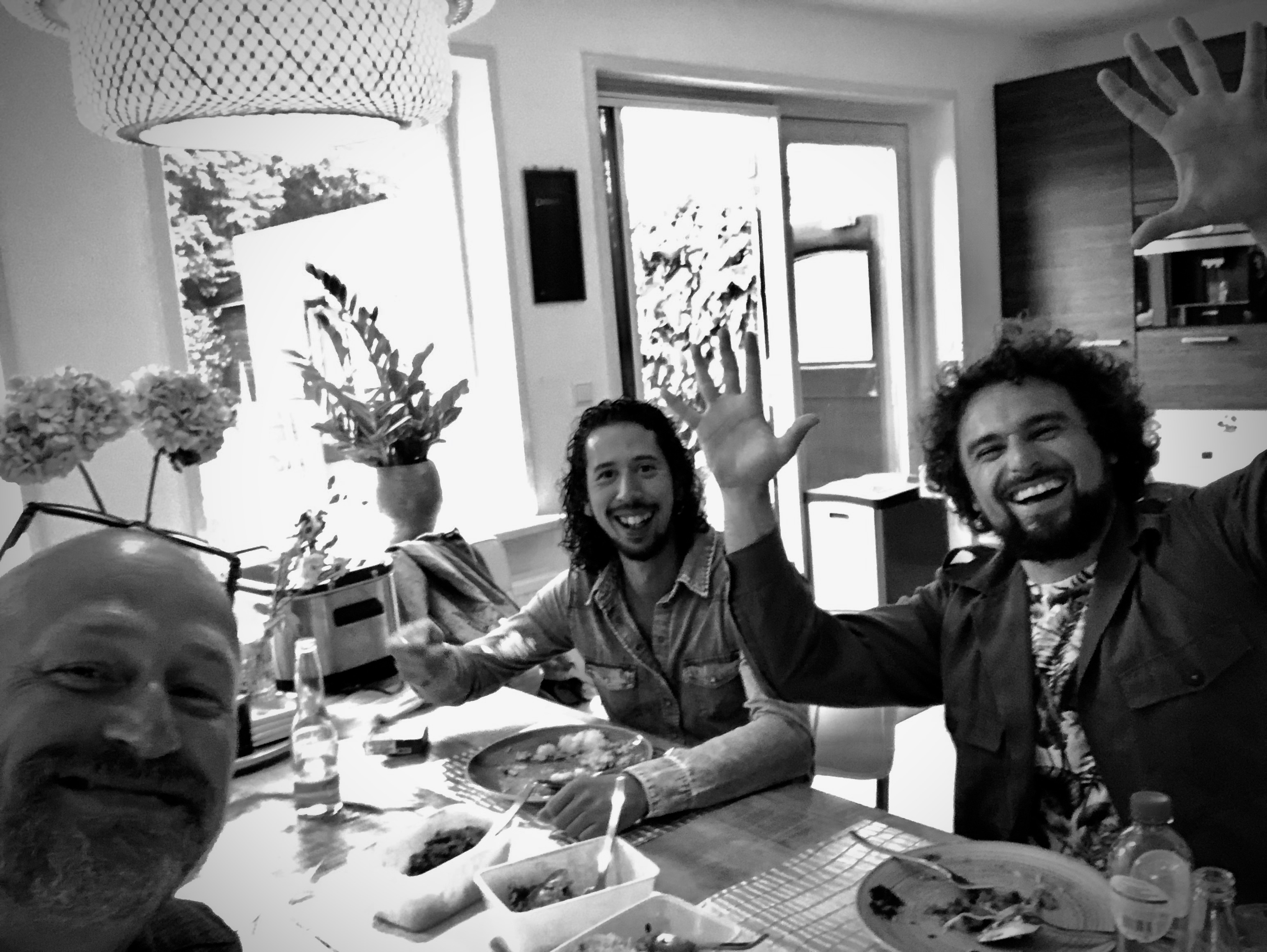 David Cairol – Bob marley Tracks (English Version)
[ INTERVIEW ] REGGAE – Bob Marley Tracks, David Cairol, L'interview, Peter Wezenbeek
Dimanche 29 Novembre 2020 à 18h10,
by Mamats
L'interview Bob Marley Tracks
Reggae lovers, we all have listened to the albums of the king, over and over, of the king of this musical vibe, Bob Marley and The Wailers. For a while now, a few fans of Bob's music have been recreating some of his songs and have launched the Bob Marley Tracks project.
We followed the evolution of this project and contacted David Cairol as fate and talent led to being chosen to take some of the most beautiful songs from the repertoire of the legend.
The result is more than surprising. The work done between the heart and us at the webzine… we are very happy to give our own "brick in the wall" and let you discover this exclusive project, in our premiere.
Thanks to Parker for the translation
LGR: Hi David, how are you?
DAVID CAIROL: Hi Matthieu, it's going great, thank you. I hope you are too?
LGR: All right, thank you. May we start the interview? Today, we will discuss the Bob Marley Tracksproject for which you were chosen to cover several Bob Marley titles. First of all, I'd like to talk to you about how you discovered this artist.
DAVID CAIROL: We were going on an organized school trip to England. I was 14 and I loaned a Lenny Kravitz tape to a friend who wanted to listen to it. I had asked him again for this trip and when I put the tape in my player, it was not the right tape. It was a tape of Bob Marley's album Legend. At that time, it completely struck me down but in a good way! A literal love at first sight for this album. I asked him what it was, and it is true – I had never really listened to reggae yet at the time. It shook me to the point that during the whole trip, I listened to nothing but that. When I came back, I had to listen to everything about Bob Marley, it was so powerful. That's really how it all started.
LGR: Which is kind of funny because that's what happened to the producer of the Peter project. If I've had a good time, a little at the same age as you.
DAVID CAIROL: Yes, the story is almost identical… It happened in the playground, a friend gave him a tape of Bob Marley. I think it was Babylon by Bus. At the age of 14, too!
LGR: And what's even crazier is that it was Judy Mowatt, I-Threes backup singer who allowed you to meet?
DAVID CAIROL: Yes, it's true that the story is pretty crazy. In fact, I went to record my upcoming album in Jamaica. I was planning to record a duet with Judy Mowatt. The producers of some of my Jamaican-recorded titles that made it possible. (Stephen Stewart & Sam Clayton Jr.)
A little before I left, I was looking for a guy who might have a little bit of the sound of Bob's drummer, Carlton Barrett, for some of the tracks for my next album By typing a few keywords on the net, I came across this project for Bob Marley Tracks. There were only instrumentals at the time and I saw that they were looking for musicians, and singers. I told myself that when I came back, I would contact this gentleman, but I had left it at that.
I went to Kingston to record with Judy Mowatt and it turns out that fate does things right. We are in the studio, Judy had finished her session with me. She had left and the person who was supposed to pick her up could not come. So she came back to the studio to wait for another person to come. We spent that time together. I told her my history with reggae and Bob, and my passion for this music. We ended up talking about almost forty-five minutes and there a strong connection was created, after there had already been something created in the studio. It's crazy, because, as you can imagine, this is really a person that I have admired for a very long time. So, something happens and we exchange our contacts.
Meanwhile, I met Brinsley Forde, the singer from Aswad with whom I have a great friendship. We spend a lot of time together. He discovers my work, I discover his, of course me at the time I was an Aswad fan at the time of " Rebel Soul " and all the first songs of the band. He came to live in the same house as me in Kingston and we went everywhere together, whether it was in a sound system or in concert. It was natural for me to invite him to my album, and he said to me: I would like you to write and compose for my next album, I really like the way you work. From there, we went to the studio, we made up. He offers me to be featured on one of these songs for the album. I was very flattered by everything he asked me. The world was turning upside down for me! And then I found myself putting together pieces for Brinsley, in the studio with him.
Everything happened quite quickly because in the space of a month everything had been done. So we modeled, and his producer who thought it was great, he says he thinks it's going to be the next single on the album. I was thrilled, it was the song I was featuring in. Brinsley said it would be great if we could get the I-Threes to do the choirs.
Brinsley knew Judy Mowatt and Marcia Griffiths well at the time because he used to hang out with The Wailers a lot, and Bob. However, he no longer had any contact. I told him that I had just done a piece with Judyand that I had her contact and that if he wanted, I would call her. I went to rest by the sea and surf alone for a few days, to relax and to digest everything I was going through, because it was strong ! I called Judy, who was super happy that I called her back, it was a really nice exchange. We tell each other about our lives and I tell her that I met Brinsley Forde, with whom I'm working on his next album. She exclaimed: Oh, Brinsley.  It was pretty amazing because I was reconnecting them. I asked her if she would be willing to do the chorus with Marcia on this piece. She says to me: "If you want, I'll give you Marcia's number. You call for me." Finally, I let Brinsley contact Marcia Griffiths. Everyone accepted and we met again two days before my departure, in Kingston. We met to record the voices with Marcia, Judy and Brinsley at Tuff Gong, The Marley family studio. It was an incredible moment. We also shot images for the video. Everything went well, we record, they add their voices, and the next day, Judy Mowatt sent me a text where she says to me: "David, I forgot to tell you about a project. It is a producer based in Holland. He's been recreating Bob Marley's songs and he's been looking for a singer for several years and I think you should be the one who should be singing his songs."  Exactly, she said to me: "You'll do them justice." It's huge, it's incredible, I was so fond of Judy Mowatt, and she asked me to sing the songs of the person she sang with for years and made her famous. Of course, very moved, I answered : "With great pleasure, I will contact Peter."  That day she sent me the message I couldn't do it right away, because we were shooting the next clip in the mountains around Kingston with Brinsley. The day following, I was going to fly to Montego Bay, I called him, we talked and I told him that I thought the project was great and offered to try to sing on a couple instrumental arrangements that he had recorded so that he could get an idea of my voice. Two days after I returned to France, I was making models at home. When I sent Peter my first models, there was " Them Belly Full ", the medley " Running Away/Crazy Baldhead " and " Kinky Reggae ". Peter was more than happy with the work. He transferred it to Judy who validated it completely and sent him lots of great compliments concerning me. In the end, since I had made these two models, I was supposed to only do the two songs. But, Peter said to me: "Considering what you have done, if you're up to it, I want you to do the whole album."  That's how it went.
LGR: Cool. He did well to wait, I can confirm. Because there is something in your voice, very clearly.
DAVID CAIROL: Thank you for approving. That's nice of you, that's a nice compliment you're giving me. If I can get an ounce of what Bob Marley was giving at the time, I'm more than happy. And if we can get this thing out to people and somehow keep the work going in a certain way.
LGR: It sounds like a big project, anyways. We are looking forward to it.
DAVID CAIROL: Thank you, in any case I can feel it's going to go well, and it is a project that grows from day to day, that widens, that extends also throughout the world and it is a wish. We discussed this with Peter as soon as we first met in Holland. For the record, I returned in March from Jamaica, I made the models and I left, I think in early July to go there. I was invited to the Oströda Reggae Festival with Brinsley in Poland. Then we went to London, where Brinsley did a concert with LKJ bassist Dennis Bovell, who plays with him in the movie Babylon, a talented bassist/producer there who has been known since the 1970s. The next day, I went to Holland to join Peter who had offered to come and record in his studio. We started discussing the project and I told him how great a project it was, and that it could go even further. It was Bob's dream in a sense, that we unite through his music, no matter where we come from or our skin color. " I only have one thing I really like to see happen. I like to see mankind live together – black, white, Chinese, everyone – that's all." 
As fans from all over the world playing together on this project (French, English, Portuguese, Jamaican, American etc…), we, in a way give life to his dream, we are the fruit of the seeds he sowed during his life and we meet today to re-record these live songs in the studio. We also get to live our dream as fans by playing alongside his own musicians! This is music made by fans for fans. Today, Reggae is heard and played all over the world, it is always universal and unifying. We are living proof of this and we try to continue to spread this message of love and peace through its music, we must also be its representatives. The project also has this vocation.
LGR: There are a lot of people, musicians who come from all over the world, there are nice people. We see it through the teasers that Peter publishes regularly.
DAVID CAIROL: Right. It's true, we have a sound engineer from Russia, another one from the United States. There are Brazilian musicians, Portuguese, some from Africa, some from Asia. Today, all continents are truly represented.
LGR: How did you select the songs?
DAVID CAIROL: When I became a part of this project, Peter had already recorded 20 instrumentals. In the 20, there is an I-Threes title called " Precious World " that they had already recorded in Kingston. The other 19 titles were chosen by Peter. I think because these are pieces that he really loved and also in relation to the universal message of these pieces.
Today, there are four of us who have integrated, let's say, the project's central team. There are four of us now who are at the heart of the project. There's Peter Wezenbeek, there's Robbie Van Rijswijk, Alain Meloen, who was the third to join Bob Marley Tracks, and myself.
Peter initially recorded a lot of things on his own. He did drums, keyboards. He started out like that and then he called up this guitarist who was not far from his home in Holland. It went like that, actually, just for personal pleasure. They wanted to recreate the songs and then the thing gradually grew.  Alain, who is Belgian on the Flemish side, is a bassist and has, among other things, backed Marcia Griffiths in Belgium. He plays in a backing band called Asham Band and works with most Jamaicans who come to sing in Belgium. So it was this first nucleus there and after Peter started networking with other countries around and a little bit with the Overseas. It was his connection to Judy Mowatt who did it— Because he contacted her without knowing if he would have an answer and offered to re-record " Precious World " with Marcia. Then Judy proposed that her daughter Shema, who is currently The Wailers' backup singer, also join the project to do the backing vocals. She lives in the United States and is also the daughter of Freddy McGregor.
LGR: Oh yes, there are good genes.
DAVID CAIROL: (Laughter) In a way, yes. It's cool to have Judy Mowatt as a mother and Freddy McGregor as a father!
So that was the first core. I arrived at this step, and so Peter offered me to sing – but also to integrate the central core, and think a little about how to develop it, and move it forward. Of course, it's something I took with my heart. I was really honored in fact – both by Judy and by Peter. By all his requests and the trust he placed in me both artistically and humanely. It was truly an honour.
LGR: I know you are humble, it must have been crazy for you, yet it is just deserved in fact.
DAVID CAIROL: I do not believe in luck, it is true, I believe in the signs of life and in any case these are signs that I am offered. It is mystical. I hope so, I hope it's deserved in the sense that I give everything I have every time I make music to make it the best of me.
LGR: You know how I feel about your talent.
DAVID CAIROL: Thank you so much again for believing in me. I tell you every time – but it's true, thank you.
LGR: This is an experience that will leave its mark on you forever, your whole life you will remember it. The opportunity to work on such a project is not offered to many people.
DAVID CAIROL: For the moment, it is true that there is only one person, it is a crazy thing. What I often say about this project. I've dreamed a lot of things, had a lot of plans in my life, but I think this one, I didn't even dream it. It's beyond all the dreams I had. I had dreamed of going to Jamaica to record with several people. When I think about today, and being in this project, surrounded by these musicians that I have admired for years, and then being so close to Judy Mowatt, who has really become close, like someone in my family. We write to each other very often, it's wonderful. It's a spiritual, human and musical sharing, at the same time. Everything is in fact linked. To talk about it and to experience it really moves me, it is very strong.
LGR: Can you tell us about the studio recordings, you spent some time with them?
DAVID CAIROL: I spent a lot of time, not with The Wailers directly because they recorded in either Jamaica or the United States. Since this is a project that also exists thanks to digital connections, we can make it live without having to physically move. Economically, I don't think it would have been possible otherwise. As a result, I did not meet with these people, at least not at that time. I spent a lot of time with Peter in the studio on the Amsterdam side recording the voices. He lives in a small town not far from the capital. This is his studio, he's the producer of the project. He's the one who started it, and he's the one who runs it, and he's really a great musician, a great drummer, as you can hear in the recordings. He's really an excellent sound engineer, he's the one who mixes too. He really has a vision of groove that impresses me, you feel that he really gives his whole soul. Today, we share a friendship, a complicity in the way we see Bob's music. We have a common passion: reggae and the work of Bob Marley. We share a lot, we talk a lot, we talk a lot about how we see things. In the studio, we always try to capture how The Wailers would have played the thing. Really feel part of the music and soul that was at the base of his songs.
Even more since we're recording songs that Bob never released. Pieces that were never marketed and that we were fortunate to have access to. It's huge, and this is another job, in the sense that we're really trying to imagine at best and think about how Bob and The Wailers could have recorded and processed the sound of such pieces and interpreted it, it's really a goldsmith's job.
LGR: You record with vintage instruments, the same for the mixing console, I saw to be closer to the original sound?
DAVID CAIROL: That's right. We have a lot of period instruments. Whether it's the guitars, the keyboards, the organ… It's a Hammond C3 of the time, a lot of vintage instruments that are present and that make the thing sound very organic.
LGR: I saw that there were dub songs that had been mixed. Will each track be completed with a dub version?
DAVID CAIROL: It's possible that yes, but maybe not all the titles. Originally, Peter wanted that. For now, not all the titles have been dubbed, let's say, but there are some. We even have a dub that comes from Russia ! It was Peter who initiated this, who made a dub in Russia and one in the United States on " So Much Trouble ", and when we know that Russia and the United States symbolize the Cold War.. By doing his dubs, it is like a musical peace treaty in this cold war via the music of Bob Marley. And all the more so with this title which speaks for itself " so many problems in the world ". It made sense to have a dub from both countries on that title.
LGR: Where does the project stand today?
DAVID CAIROL: The project today, 20 tracks are recorded, mixed and mastered. We recorded a few more, during the session I just spent with him last week in Holland. There may still be a few tracks that will be recorded. The idea is to release his songs in different volumes. We are on a release of several volumes of 10 tracks and the goal is to release a first single, which will be released in early spring. This is the plan today, to release a first single of one of the titles.
LGR: So, you've answered my next two questions! I was going to ask you if a release date was planned and in what format.
DAVID CAIROL: The format, the idea will be a digital release of singles and physical probably, it is still a small uncertainty for the moment for the single format. We think and we look at a vinyl release of albums by volume. Of course CD for those who do not have platinum. I'm not sure whether it's going to be on all platforms, Peter will decide on that point.
LGR: Do you have something to add about the Bob Marley Tracks project that you think is wise that we would not have discussed?
DAVID CAIROL: Yes, someone I talked about a little bit, but I made him join the project: my friend Brinsley Forde who will perform the song " The Heathen ", title of the album Exodus. he generously agreed to participate in the project. We have Brazilian guitarists, the guitarist of the band Christafari, a very famous band in Brazil.
And there's one other thing I want to say. I am very happy and honored to be having this first interview about this project here in France with La Grosse Radio Reggae and with you also who have been closely following this project since I joined it. You are really the first, and I thank you for that. For us, it is a window to the world, you allow us to talk and exchange about what we like to do.
LGR: Thank you and thank you for always being there, as soon as I needed you, you always answered present, for these human exchanges too. You know all the good I think of you and I'm also honored to be able to put this project forward. I can't wait to listen to it.
DAVID CAIROL: It's the least we can do, thanks to you and thanks to you and La Grosse Radio Reggae.
LGR: I'm going to change the subject, your personal projects, your album, where are you at? What can you tell us?
DAVID CAIROL: Yes, everything is also clear for me. Given the difficult context, we finally planned a release of the album in 2021 and several new singles in February. One of them will be a title featuring M. Brinsley Fordeand Mr Var. Var is one of the singers from the Inna de Yardcollective. The title was recorded in Kingston with part of Damian Marley's team, including Winta James on keyboards, who is also producer for Protoje and Mortimer, and Courtney "Bam" Diedrick on drums. We have Roots Percussionist on drums, which is Chronixx's percussionist and vocalist, we also have Danny Bassie Protoje's bassist, and we have Latoya HD who was the vocalist of Toots and The Maytals until his recent and sad departure…
LGR: You have nice people around you!
DAVID CAIROL: It's a great team and it's produced by the very talented Matthieu Bost!
LGR: Thank you very much David.
To follow the project,
You can subscribe to the official pages
to not miss anything, discover more videos
and support music in this troubled time…
David Cairol